Airpower Scripted Scenarios (FSX & P3D v3)
* Airpower provides Interactive Virtual Environments for Military Operations, based on FSX/P3D Mission System, with features like :
- AI Wingman performing various tasks in mission. - AI friendly and hostile units (planes, vehicles, boats) performing tasks and interacting with user and environment. - AI units capable of fighting the User and causing minor to critical damage (failures). - Scenery alterations due to User or AI actions (like after bombing targets or capturing an area). - Randomized events and action (like random number of AI units that spawn, random events, etc) - Specific Re-Arming, Re-fuelling and Repairing area/s for consequent sorties. - Voice overs triggered by User or AI actions (like all sort of communications) - Specified task/s for the user during the mission and Winning/Losing conditions.
* FSX@WAR theaters : provide preservation of accumulative damage on targets throughout subsequent flights while functional Flak, AAA and other AI defences, challenge user's return to base in a campaign flying mode. Both in Single & Multiplayer.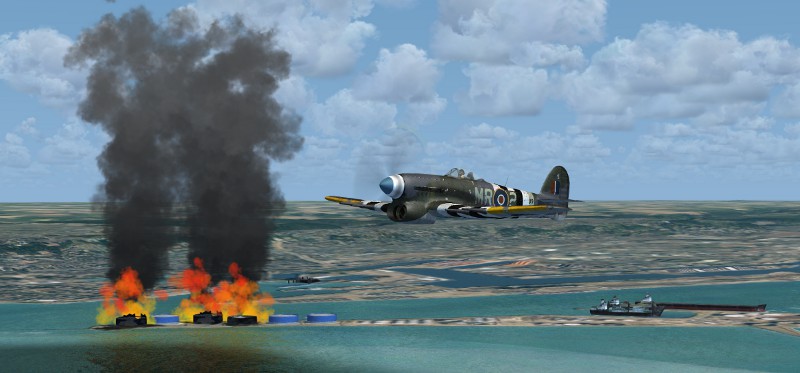 * Multiplayer via JoinFS : Until now, Tacpack could work only in single player missions, dew to lack of slew mode in FSX Multiplayer missions, that Tacpack needs to function properly. Multiplayer through JoinFS bypasses this Tacpack limitation, because clients can be connected to the JoinFS network being in Single Mission environment, thus with functional Tacpack ! Scripted mission events are triggered localy for each player, while everyone can see the other participants and the AIs, in a synchronized multiplayer environment...
The only limitation with Tacpack as JoinFS stands right now (Feb. 2017) is that user cannot inflict damage to any other user. This, currently restricts operations to co-operative flying humans vs AIs. On the other hand, JoinFS succeds in bringing players of different platforms (FSX boxed / FSX : Steam / P3D) into the same multiplayer environment, flying and co-operating in the same sortie - mission !
Good hunting & Safe Landings !