Combat Flying in Flight Simulator (FSX/P3D)
FS new domain of Simulation : Combat Flying
Today, the ability of simulating Combat Scenarios in FS World has become a reality. All the "pieces of the puzzle" have been gathered and a new domain of simulation in FS - Combat Military Operations - is a fact. All nessecary "tools" for the interested FS simmer are there. Apart of Tacpack (by VRS) that is a payware addon and a crucial one, any other addon is freeware : - VRS Tacpack : Weapons & Systems for user's planes. - TMAP or Tacpack Generic : A generic Tacpack modification that can be applied to any plane, adding usable Tacpack weapons. - CCP : AI traffic & Static Simobjects (Planes, Ships, Vehicles, Miscelaneous). AI Simobjects move in predefined Wpts & time schedules. - FSX@War : Simple targets or whole theaters of destructible Simobjects (in three states : Operational, damaged, destroyed). Progressive damage upon targets depending of used weapon, impact distance from target and "hardness" of target. Saves the destruction state - level of theater targets, providing a campaign mechanism for subsequent flights - sorties. - FSCAI : Adds weapons of all kinds to simobjects, providing AI ground & surface defences against users and AI planes - FSX Missions / P3D Scenarios System : Scripted events & action - JoinFS : Connects users from different platforms (FSX, FSX-SE, P3D) to fly & operate together in the same virtual environment (Multiplayer).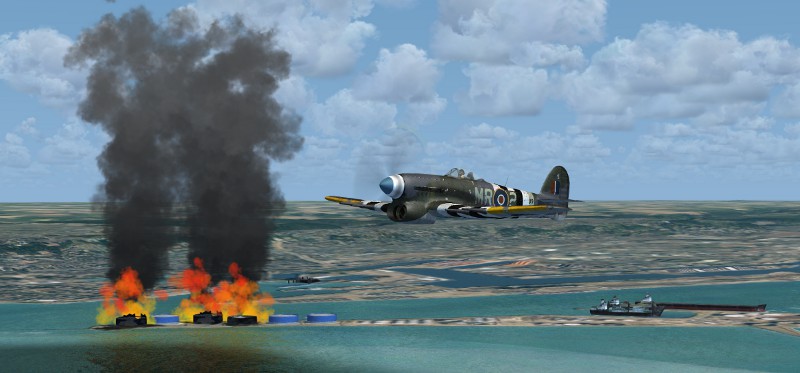 Potential for Military Operations in FS becomes vast... From WWI up to Modern jets, there is virtually no scenario, historical or fictional, that can't be simulated in FS... Since Whole World is in FS and almost any Aircraft is available.
At the same time, the FS Software Development Kit (SDK) is publicly available for anyone interested to develop various staff for FS, from sceneries and simobjects up to gauges and whole Aircrafts... A big & active sim community is already doing so for years now
Good hunting & Safe Landings !